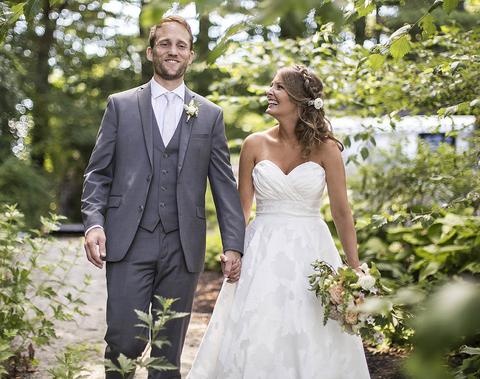 JOHN & MICHELLE CORGAN
John's Story
 John grew up in Kennebunk, ME as the oldest of five.  He is responsible, kind, smart & curious.  He is hardworking and very dedicated to everything he does.  He has worked in various positions in audit & finance.  He now works in the product innovation field specifically in animal health.
Michelle's Story
I grew up on Long Island as the youngest of five.  I am creative, caring and like John, I am also hardworking.  I have worked in planning, allocation, buying & sales.
Our Story
John and I met in 2015 and very early on we started talking about the big dreams we had.  We were living in NJ at the time and I was working as an account executive.  My job was rewarding at times, but I've always known I was meant to own something.  I didn't see that happening in NJ and John was also interested in the idea of moving somewhere new.
Ten months into our relationship, John proposed to me.  I was ecstatic and couldn't wait to start my future with him.  We began looking for wedding venues.  We knew we wanted a flower field of some sort and were not afraid of doing something that required travel.  We liked the idea of making the wedding a vacation for everyone.  When we started the online search we found two favorites - a lavender farm in Delaware and a flower farm in Maine.
We visited both and although Delaware was beautiful, the venue in Maine just felt right.  We also loved the connection that John is from Maine and I actually used to vacation in Maine as a kid.  We thought it would be a great spot to force our family and friends to come to!
While we were wedding planning, we visited Maine quite a bit and stopped at some places along the way.  We fell in love with Portsmouth, NH specifically...and thought to ourselves, "why not just move here?"  It fit everything we would look for in an area; close to the beach, close to hiking and we could see that there was a sense of community.  We started looking at houses and found a great little condo slightly out of downtown, but still walking distance from all the action.
We moved there in June 2017, two months before the wedding.  Some people thought we were nuts, but we have zero regrets.  I focused on the wedding for those two months and did dog walking through Rover and John was able to continue to work for his job in New Jersey remotely.  In August, I married my partner in crime and we had a beautiful ceremony followed by the party of our lives with all our favorite people in a beautiful setting.
After the wedding I needed something to do!  I really did not want to go back to another corporate job, so I focused my efforts elsewhere.  I started a little wedding rental business and also made signs to sell.  I had fun with it, but I wanted to keep my eye open for bigger opportunities. 
One idea we loved was to have a wedding venue.  Having just gotten married and being exposed to how it worked, we thought it could be something we would love to do.  We looked into buying land and nothing really struck us.  Then, we switched our search to find an existing business and that's when we found Bell Farm.
When we saw it, we got so excited.  I loved that it was a retail shop.  Although no part of us was planning on running a retail shop at this point, it had always been a long term dream of mine.  I just never imagined that it could happen this soon.  When we walked in the doors, we just knew it was the right decision for us.  We immediately recognized that it was a very special place with so much opportunity. 
Our first day open was January 2nd, 2018.  We have been focused mostly on the shop at this point, but we plan to expand more into events as time goes on.  We can't wait to continue to evolve the business and see where it takes us!