Guide to help you select the bird bath for you!
Did you know that having a water source is the number one way to attract birds to your yard!?  And they are beautiful statement pieces for your garden- what a win/win!  There are a lot of factors to consider and ultimately, you need to choose the features that are most important to you!  I will break down all the materials we sell at the shop with their pros and cons to help you make your decision.
Material: Cast Stone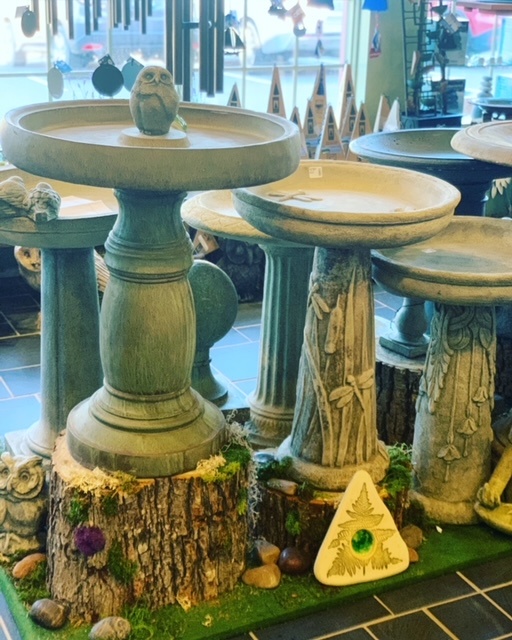 Overview:  Cast stone is the most popular choice for a birdbath in our store.  This is due to the decorative options that look so beautiful in a garden.  
More on Cast Stone: Cast stone is cement made in a mold.  
Things to consider: Case stone birdbaths typically come in two pieces.  This makes it a little easier to maneuver, but keep in mind these are still heavy.  We carry a select few in one piece, which some people like in case they have a lot of critters who they are worried may knock the top off and damage it.  You will want to store these birdbaths for the winter so they do not crack.  If you cannot, at the very least you can lift it up off the ground with a pallet so it does not freeze to the ground and turn the top over and cover so it cannot collect water.  This material has a nice texture which the birds can grip onto nicely, but some of them are rather deep.  You can leave it not filled completely, or add a rock to make it shallow enough in that space that the birds are comfortable.  The texture does make it a little harder to clean, so we recommend a bird bath enzyme cleaner.
Material: Fiber Clay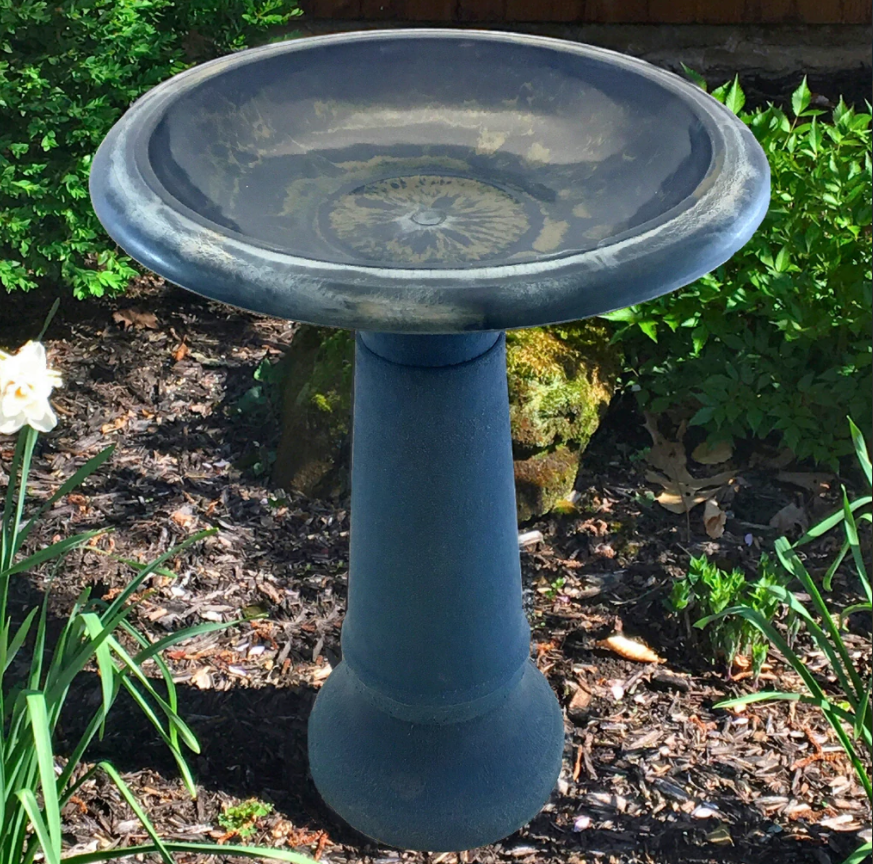 Overview: Fiber clay is another popular option.  It is very light weight, and many find the colors attractive.  We sell bowls by themselves (with bases sold separately), a short option and a tall option.  
More on Fiber Clay:  Made of 70% clay, 25% plastic, and 5% fiber. 
Things to consider: The composition makes these bird baths very durable.  With a heating element, they are OK for winter use.  If you are not using a heating element, you will want to bring inside for freezing temps.  They are so light, it's so easy to move if needed.  The surface is a bit slick which makes it super easy to clean - yay! - but a little more difficult for the birds to get traction.  We recommend adding a rock.
Material: Glass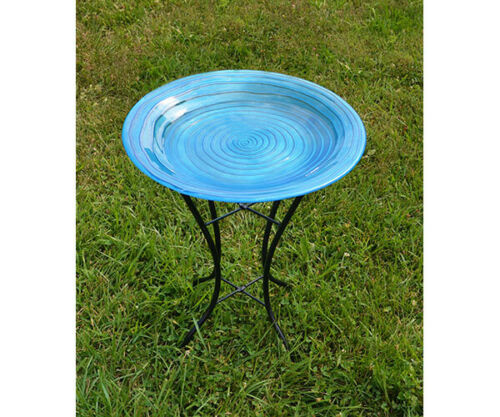 Overview: Glass is another great option.  It is lightweight and there are many decorative options!
Things to Consider: We recommend storing a glass birdbath in the winter to prevent it from cracking.  Glass birdbaths are more fragile, so you want to keep that in mind when choosing placement.  They are less expensive than a lot of other options and if you do need a replacement, tops and bottoms are sold separately on most styles at most stores.  Glass can also be pretty slippery, making it easier to clean but more difficult for the birds to get traction.  The style pictured is a nice option since it has the texture from the swirls.  
Material: Plastic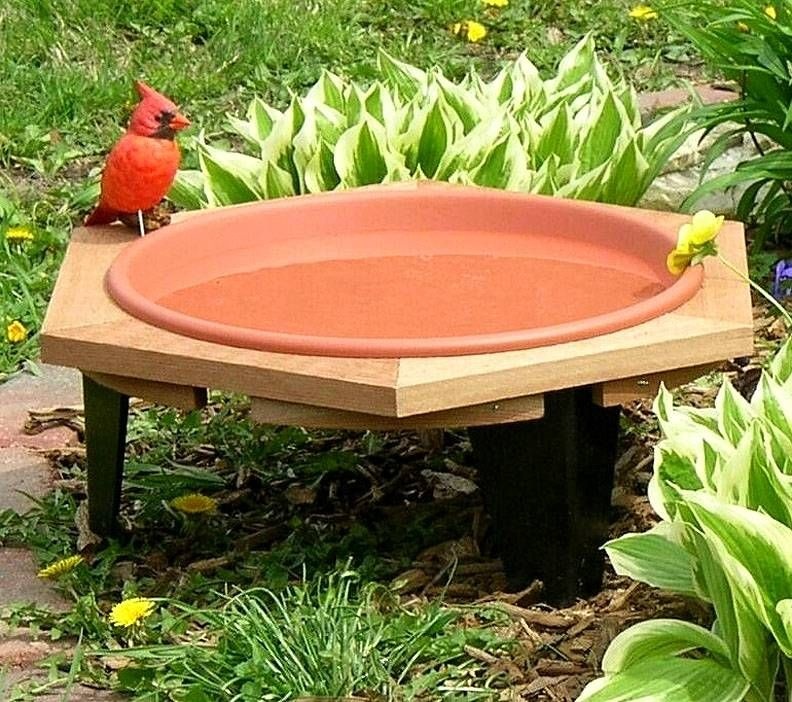 Overview: If you are not looking for an over decorative option and are mostly concerned about bird use and durability, plastic may be the choice for you!
Things to Consider: Plastic birdbaths are nice and light weight, and you can use through the winter with a heating element.  They are smooth making them easy to clean, but not as slick as some other options allowing the birds to get a little better traction.  The styles available are generally more natural.  
Material: Granite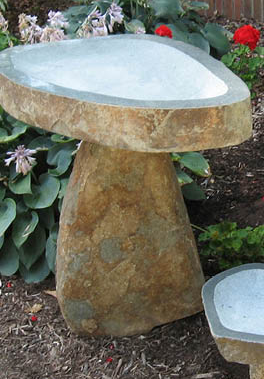 Overview: Want something that will last forever?!  Here it is!
More on Granite: These birdbaths are made from actual granite boulders!
Things to Consider: These are pretty much indestructible, but they are heavy.  Choose a location you love so you won't have to move again.  Granite is okay to leave out all winter long.  There's a bit of texture in these allowing the birds to get traction, while still being pretty easy to clean!
Material: Clay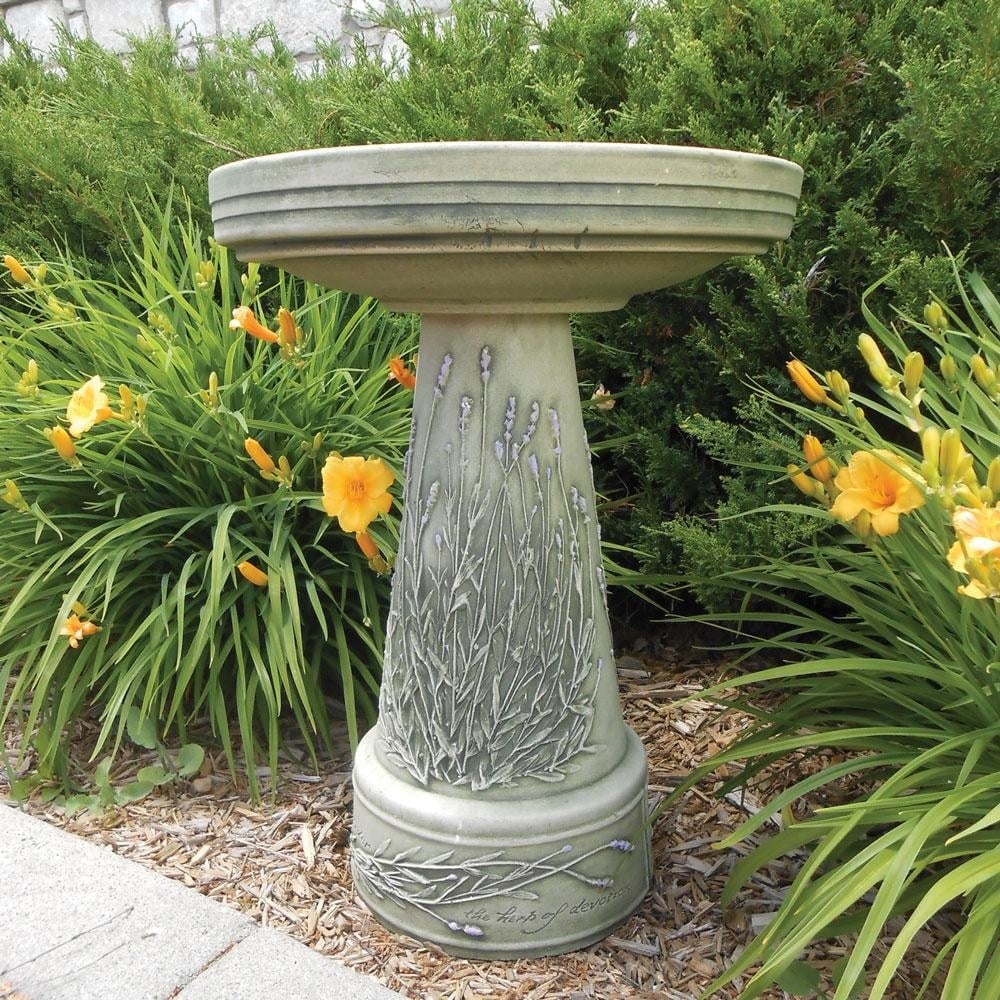 Overview: These birdbaths are so pretty!! I find these the best option if you want something decorative, but don't want something as heavy as the cast stone.  They are much lighter weight.
More on Clay: Burley Clay birdbaths use clay sourced from Ohio mines.  All sculpting and processing of product is completed in the Midwest, and the bird baths are finished with beautiful hand painting.
Things to Consider: These all come in two pieces and have a "lock" to prevent the top from falling off the base.  Clay birdbaths can be fragile, so we recommend considering that when choosing placement.  IF your top or base does fall off and get damaged, you are able to get another piece but there aren't many readily available on a sales floor like there would be glass or fiber clay.  You should take these in during the winter.  They have a little bit of texture which is nice for the traction of the birds, but we recommend an enzyme cleaner.
Well, there you have it!  These are the majority of the materials we carry here.  It can be hard to choose with so many beautiful options, but I hope this helped.  And if you still can't decide, get multiple at different heights to attract a wider variety of birds!