Learn all about the different birdhouses we offer to help you determine which birdhouse is right for you!
There are so many options for bird houses out there!  It can be overwhelming to sort through all the options, especially if you are new to birding.  We are here to inform you of which houses we offer and to help you determine which house may be the best for you and your yard!
There are a couple questions you want to answer to help you figure out where to start.
1. Who is this house for- is it for you or for the birds?
Some of us want a bird house that is a beautiful piece of garden decor.  Some of us are exclusively interested in offering the perfect home for the birds and want to observe the nesting stages.  Or you may be in between, where you want to offer a great house for the birds, but do not want to compromise on style.  Luckily, any house type we offer we have personally seen birds nesting in them, so prioritizing style doesn't mean the birds won't nest in your house. 
2. What type of bird would you like to attract?
Bird houses have different sized holes to attract different types of birds.  If you are planning to attract a smaller bird like a chickadee, they are more likely to use a house with a smaller sized hole because they will feel safer and more protected from predators.  A larger bird, like a bluebird needs a slightly larger hole so they can access the house.  If a bird has no other option, you may find a smaller bird nesting in a bluebird house and on most houses you can add a portal protector to make the hole smaller so they feel safe and will continue using the house.
First, let's focus on bluebird houses.  Bluebirds are beautiful birds that are making a resurgence!  There was a time where bluebirds were not as common, but major efforts were made to install nest boxes and it worked.  Every year, it seems like more and more people are getting bluebirds to their yards and getting to enjoy them.  Bluebirds are not cavity nesters, so they rely on man-made houses to nest.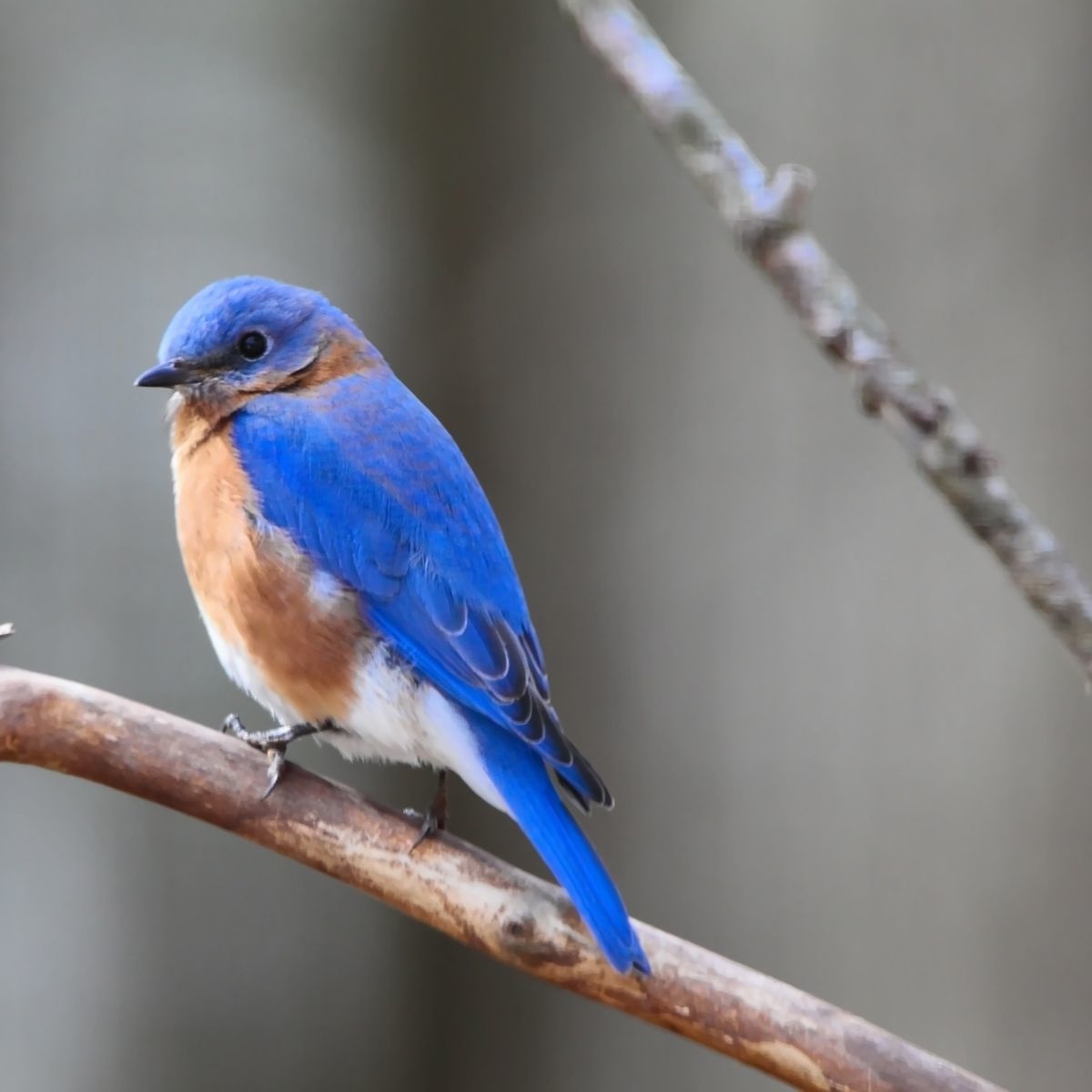 Houses we offer: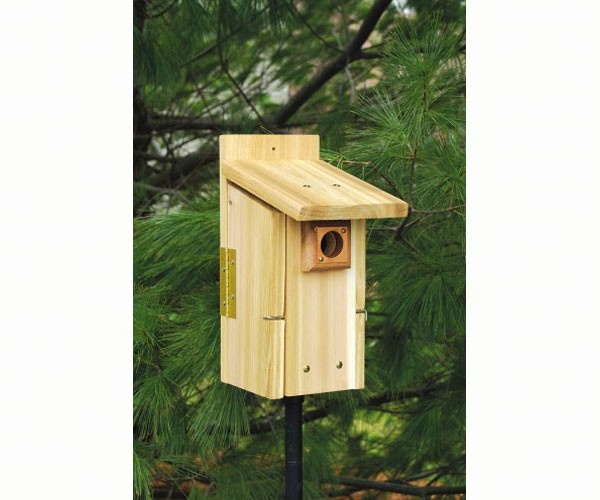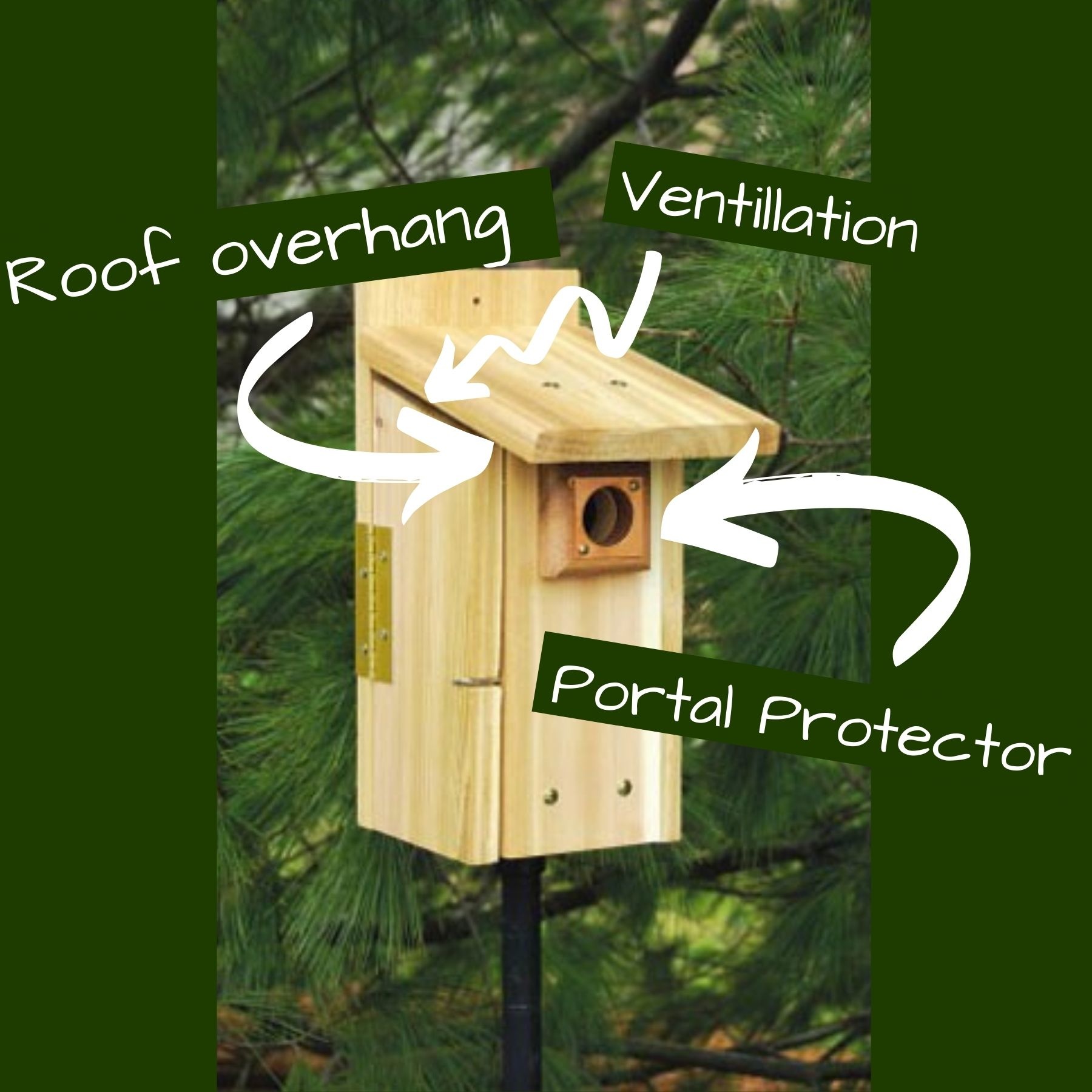 Perfect for: Someone who wants the very best for their bluebirds!
Material: Cedar
About:  The ultimate bluebird house has all the features you could want in a bluebird house.  It has the proper hole size - 1.5", has a roof overhang to protect from the elements, it has a metal portal protector around the hole to prevent squirrels or racoons from chewing the opening.
Open the house up to reveal even more features!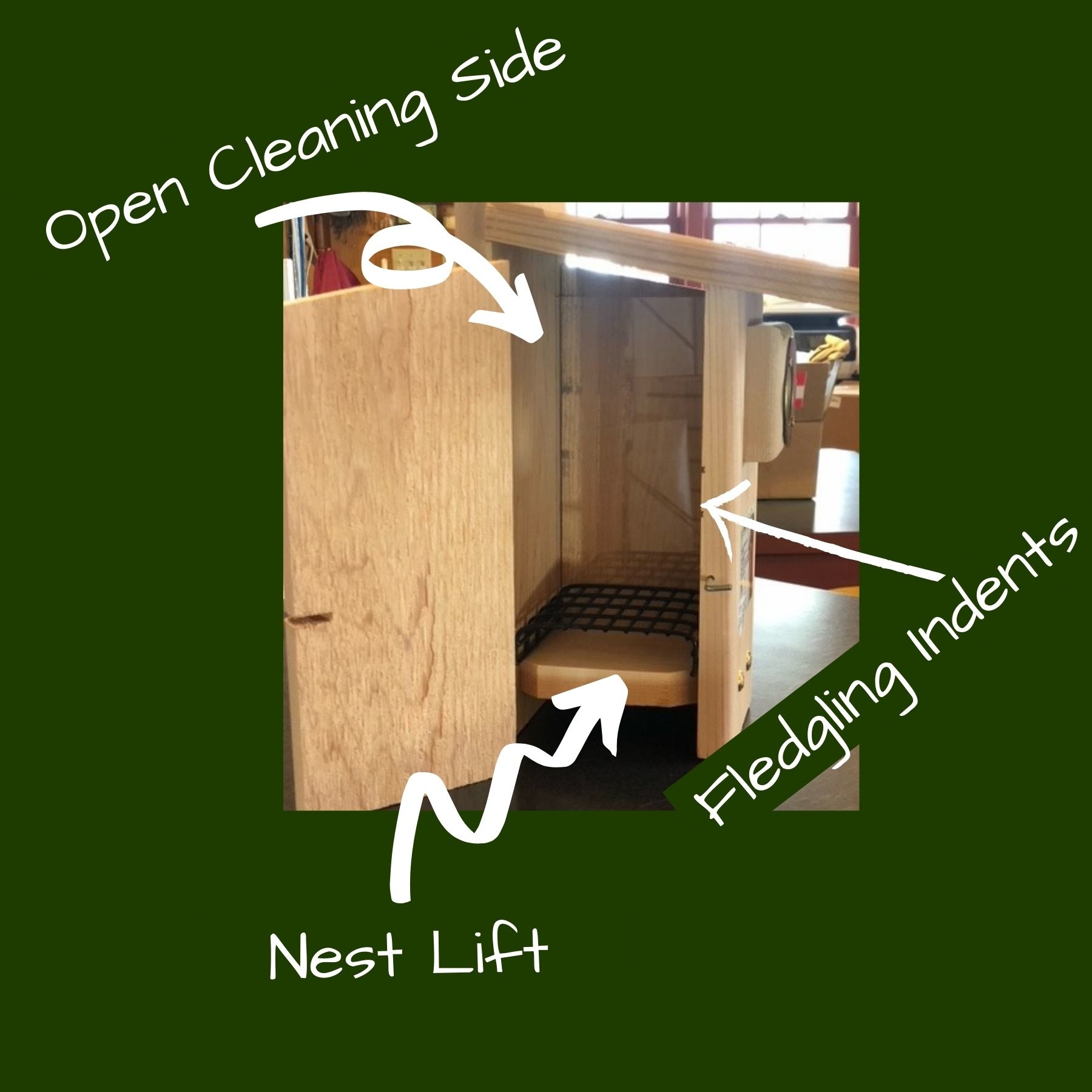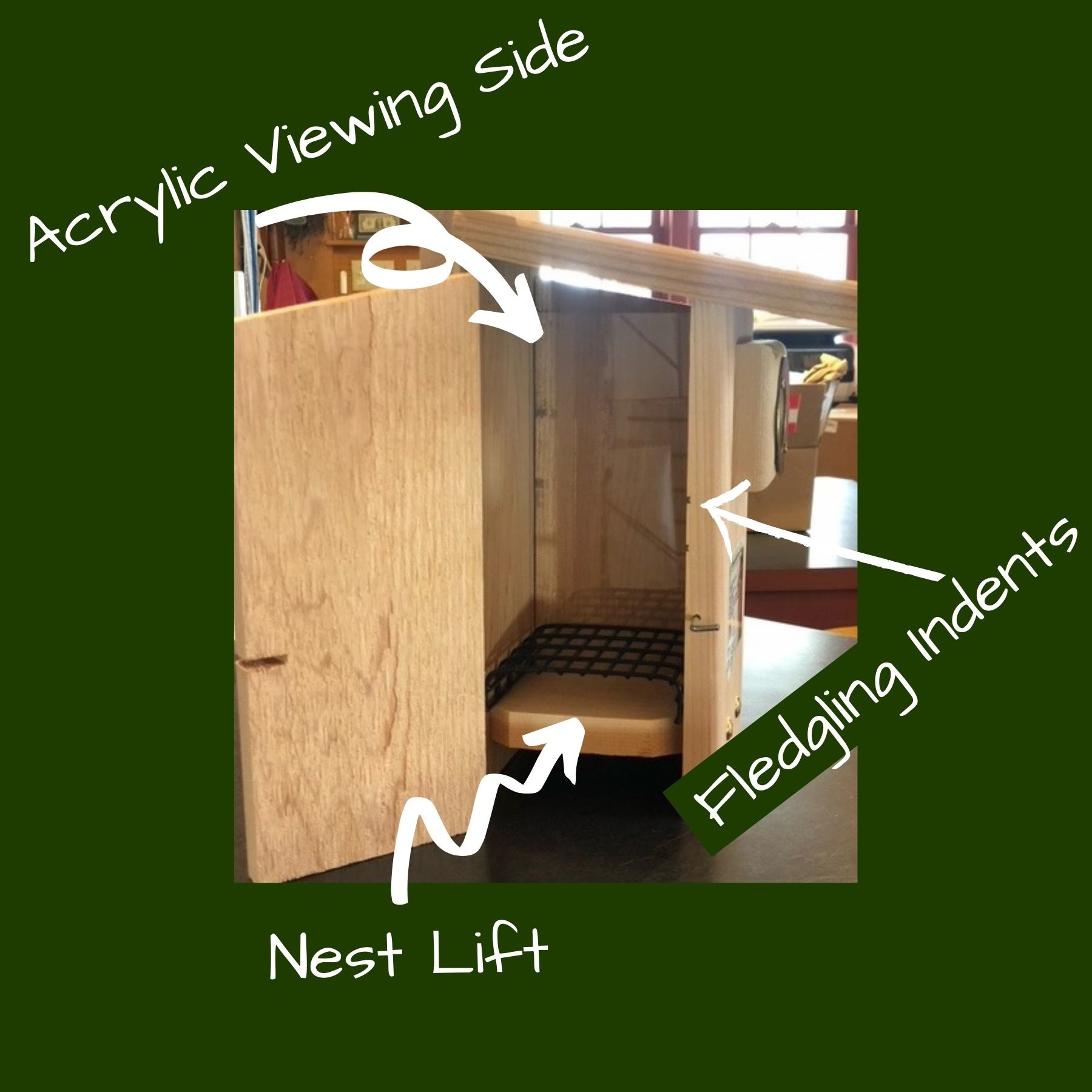 One side is completely open so you can clean out the nest after the fledglings leave their nests.  Bluebirds can have multiple broods in a season and if you don't remove the nest they will build on top and eventually the box will get too full.
The other side has acrylic for viewing.  It is so much fun to observe!  You do want to be careful, quiet and conscious while viewing.  Read
this article
for more information.
The nest lift is great to prevent blow flies and parasites.  It keeps the nest raised and dry.
There are also indents in the bird house to help fledglings grip and fledge the nest.
More on cedar.  Cedar is a nice wood for a birdhouse because it is rot resistant and retains its shape.  It will last many years.  Birds, given the option have shown preference for untreated wood houses.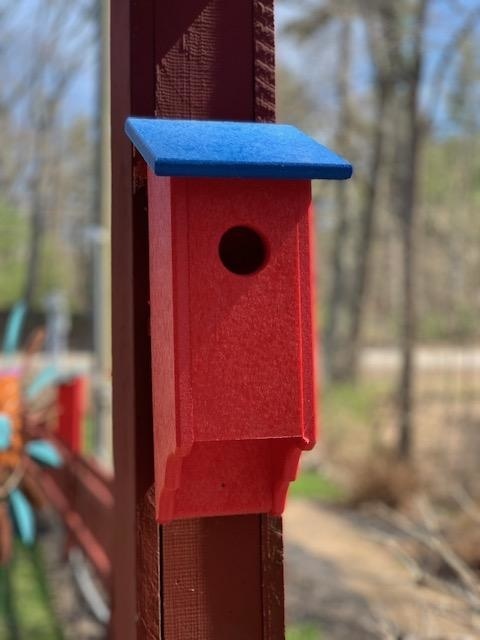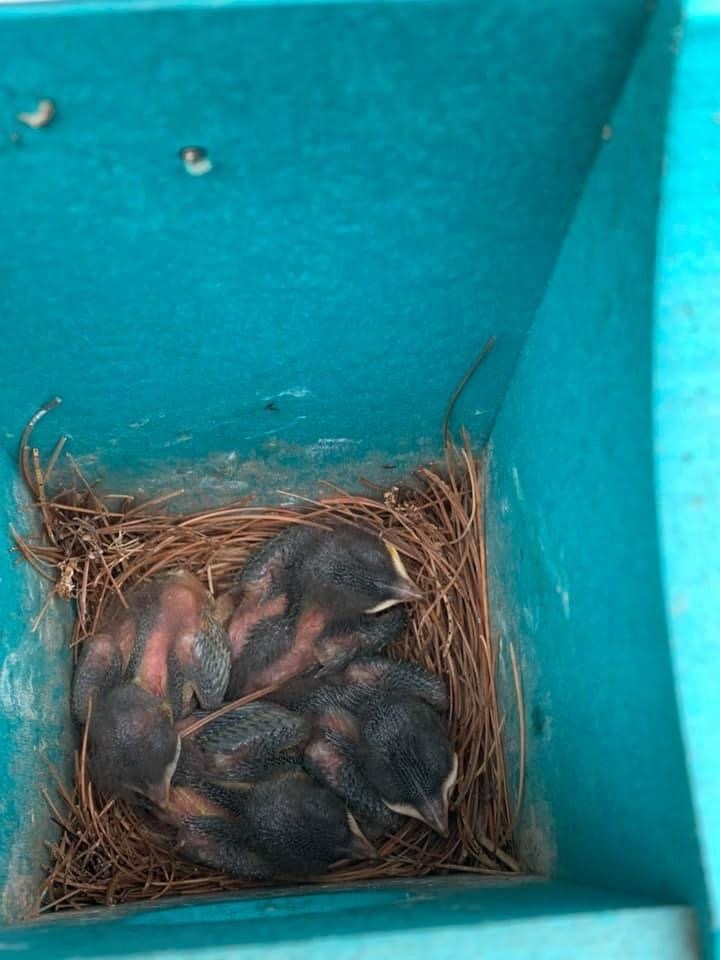 Perfect for : Someone looking for a convenient, durable and easier on the wallet option
Material: Poly (Recycled Plastic)
About:  This birdhouse is a popular choice because it's rather low maintenance and the colors are attractive.  With the material being recycled plastic, there is no chance of it rotting and it will last. It comes with mounting brackets to make mounting the house a breeze.  The roof opens easily for cleaning or viewing and there is proper ventilation and drainage.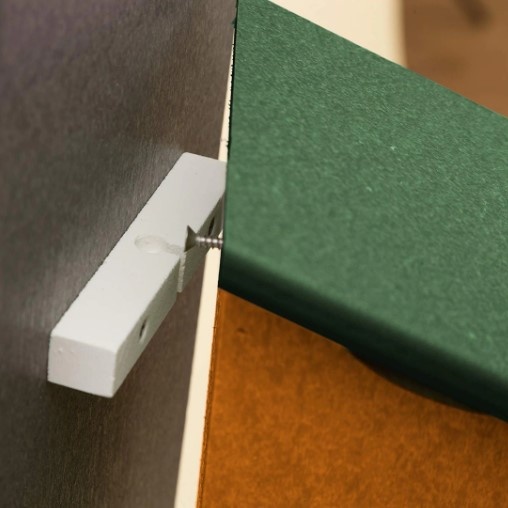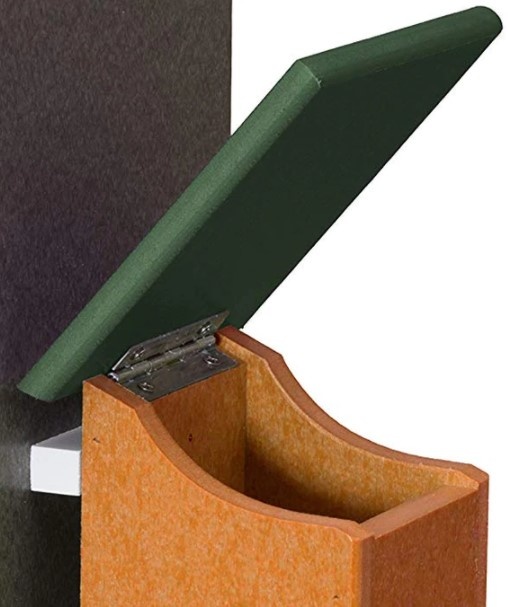 Photo Source: Dress The Yard
We do also offer a pole that works perfectly with these houses.  Ideally, you want to mount a birdhouse on a pole to make it more difficult for predators to get into the house.  This pole is great because it is extremely sturdy and high quality, plus it is the perfect height to welcome the bluebirds.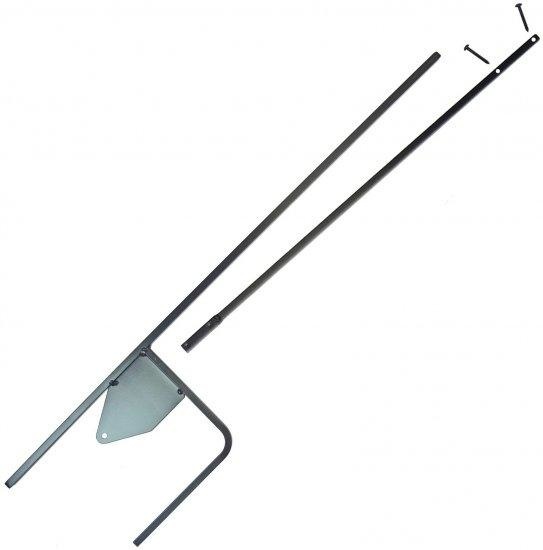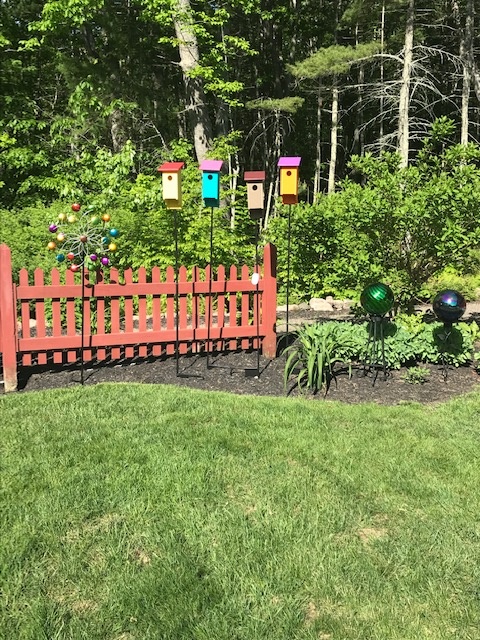 Birch PVC with Cedar Top Bird House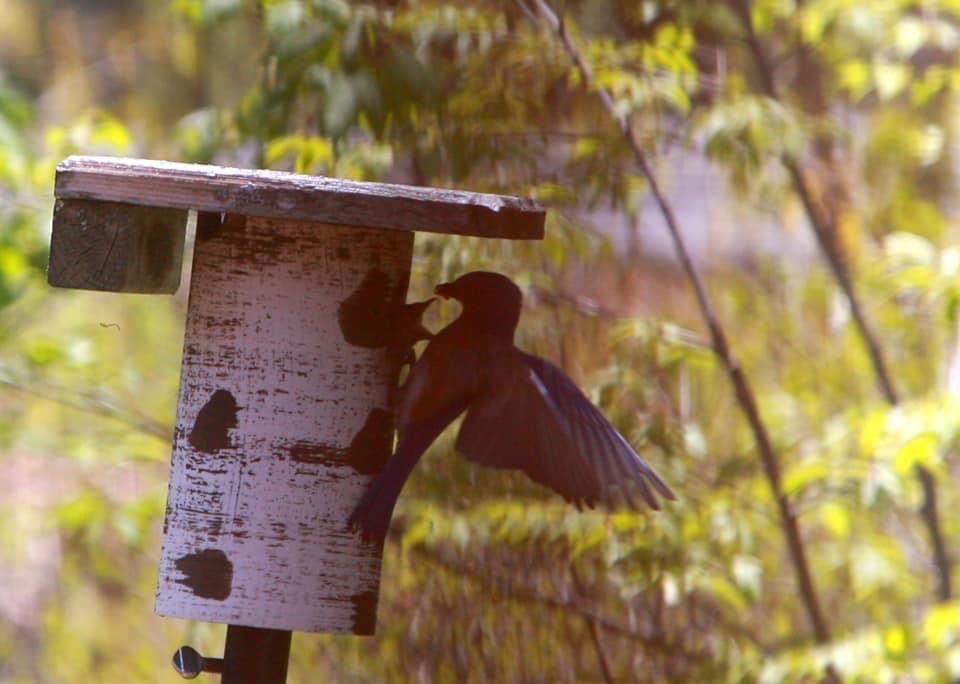 Photo Credit: Erin Prawoko
Perfect for : Someone with a sparrow problem.
This is our personal favorite bluebird houses.  We have many birdhouses available on our property and these houses always have bluebirds taking up residence.  If you have had a birdhouse before, you likely have seen sparrows take them over.  Sparrows are more aggressive than bluebirds and could cause harm to them.  If you see a sparrow nest in a bluebird house you should remove it.  Sparrow nests are loose and messy while bluebird nests are fine and tidy.
With this house, the sparrows don't bother with it at all!  I have seen them attempt to take over all of our other houses, but these remain untouched.  Something about the shape and dimensions they find unattractive, making the bluebirds feel safer one they learn they are not at risk of a sparrow attack.
You can mount these with a 1/2" conduit from a hardware store.  We offer a sturdier option if you live in a windy area.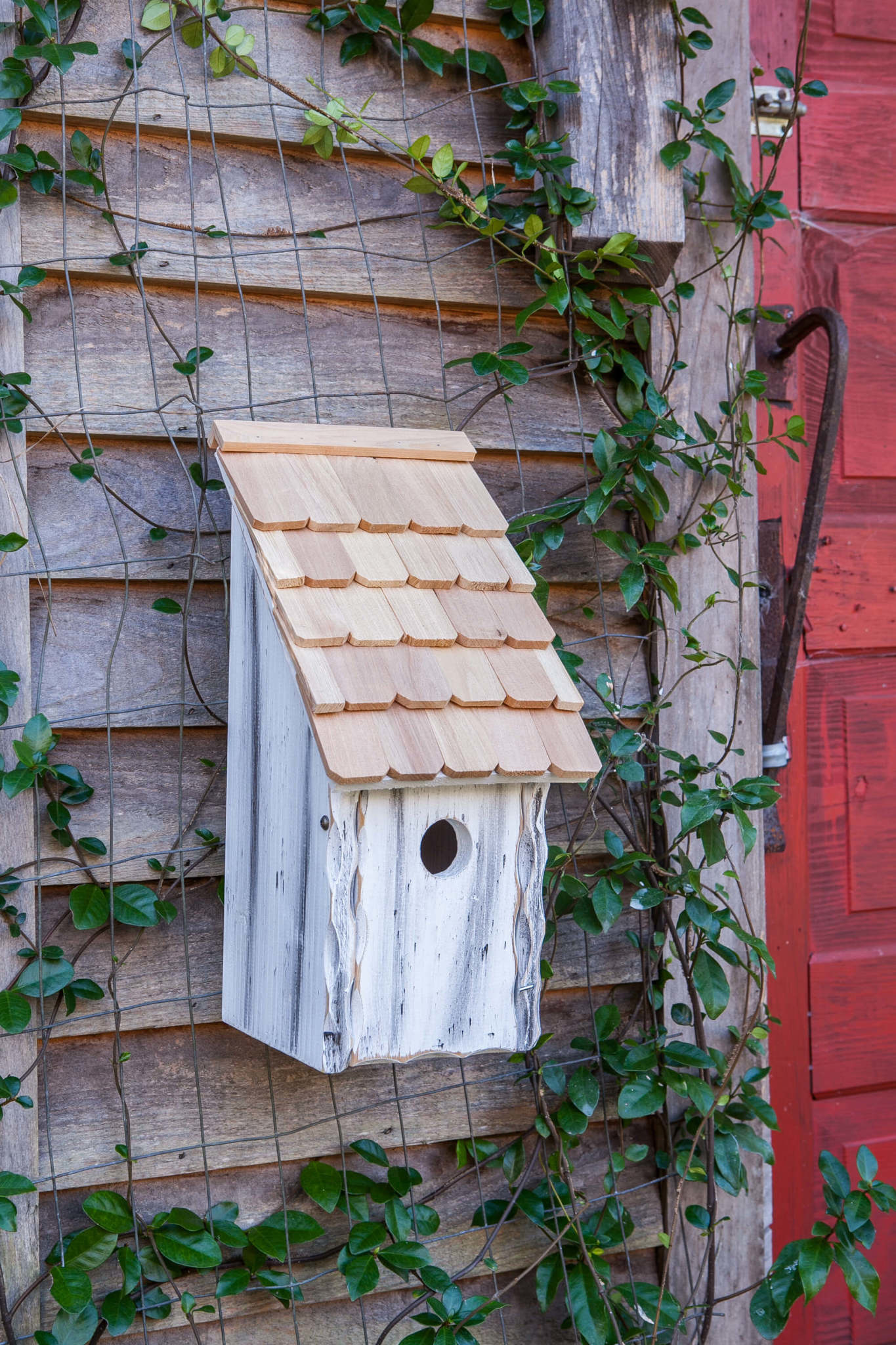 Perfect For : Someone looking for the perfect intersection between style and functionality.
Cypress is a very hard wood and it will withstand the elements.  They are painted with industrial grade, non-toxic, acrylic latex paint.  They have a lot of great features including ventilation, drainage, proper hole size and access to clean out the house.  The cypress bird houses we carry are all handcrafted in the United States.  
We carry a variety of beautiful options!  They are a huge favorite among our customers and the birds.  They are our most popular choice for gifting.
This is our birdhouse wall and you can see that the cypress birdhouses are offered in multiple colors and varieties!  The top row is our bluebird houses.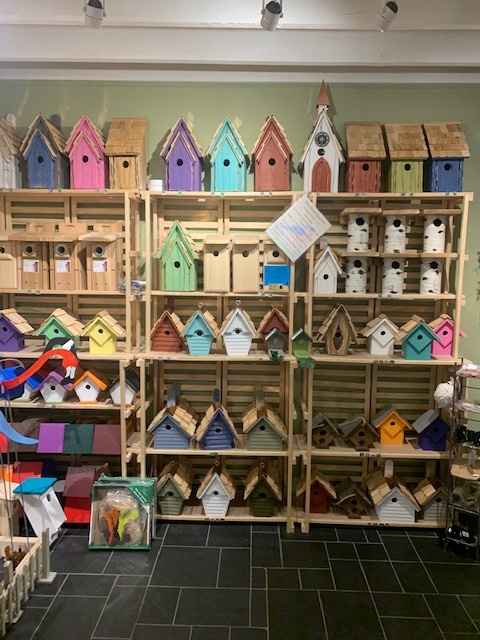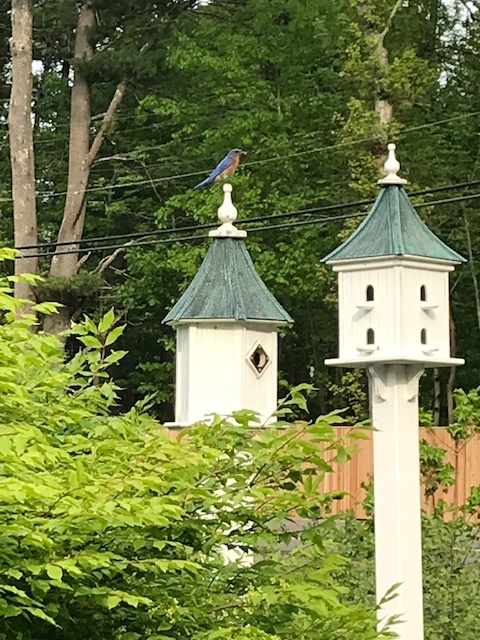 Perfect For : Someone looking for a garden statement piece AND a bluebird house.
These houses are just stunning!  They have a copper roof that either comes in bright copper or with a patina coating and the body is made of PVC.  They will not rot and are extremely durable.  They have proper draining, ventilation and the correct sized hole.  You can unscrew and remove the roof to clean out the house.  They are made with brackets that slip right over a vinyl sleeve.  They also come with an adapter that stays on if you are mounting it on a wood post.  Ideally you would have the vinyl sleeve since it is very difficult for predators to climb a vinyl sleeve.
There are a large variety of sizes you can buy.  You can choose from perch or no perch, as well.  Typically, we are not a fan of perches since they make it easier for predators to access houses, but when paired with a vinyl sleeve we feel better about it!
No matter what house you choose, the birds will be so happy to have a house!  Make sure you have a bit of patience, as it can take birds a long time to discover a new house.  Because of this, there is truly never a bad time to put up a house.  I'll be adding more posts on best spots to put your house and will link here once they are live.
Good luck and enjoy!  It makes spring so much more enjoyable to be able to participate in the world around us and watch a bird family begin!